Updated December 31th 2021
As a Steigenberger Alsik guest, your health and safety are of paramount importance. Therefore your stay will be subject to all regulatory guidelines and recommendations for the prevention of Covid-19. You will find instructions and guidelines in many places throughout the hotel, in the restaurants and in the spa about how to maintain physical distance and to look out for one another.
Coronapassport is mandatory
By order from the Danish government a valid corona passport or similar documentation for vaccine, previous infection or recent negative test is needed to enter:
Our restaurants
Breakfast area
Alsik Bar
Alsik Nordic Spa & Wellness
Further information at coronasmitte.dk
Facemask
Facemask is mandatory when visiting Alsik Hotel & Spa.
With the following exceptions:
To eat or drink.
If you feel you cannot breathe and that you are choking when you are wearing a face mask or visor, for example, if you suffer from COPD or anxiety.
If you need to comfort someone who, for various reasons, is frightened by the sight of a face mask or visor.
If the face mask causes significant discomfort – worsens your allergies, causes eczema or worsens other skin diseases.
Physical or mental conditions that prevent proper use or the performance of important functions
Children under the age of 12 are exempt from the requirement to wear a face mask.
Sale of alcohol
Sale of alcohol between 22:00 and 05:00 is prohibited.
Point of View
Point of View is currently closed due to government restrictions.
General Covid-19 guidelines
Hand sanitizer is available throughout the hotel.
Please keep a safe distance to other guest and staff.
We recommend that you be tested if you have symptoms, and that you refrain from visiting the hotel until you have a negative test answer.
Due to current guidelines, there may be queues at the lifts and the breakfast buffet. We ask for your patience and understanding in these situations.
For futher information about Covid-19 guidelines in Denmark please visit:
COVID-19 INFORMATION ON CORONASMITTE.DK
Please feel free to contact us if you have any questions.
We are looking forward to welcoming you to Alsik Hotel & Spa.
COVID-19 TESTING
All persons (including foreigners) may obtain a free PCR test or quick test in Sønderborg.
Please follow the link for finding your testing facility: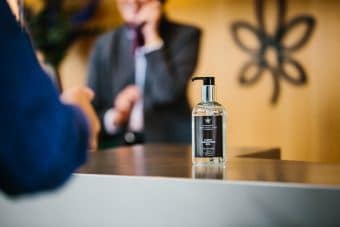 Information about our restaurants
Our restaurants are often fully booked during evenings, and we therefore encourage you to book your table in advance to avoid disappointment.
Important information about Alsik Spa
Advance booking is required for visiting Alsik Spa.
Children up 16 years can book special timeslots for children.