Updated February 1st 2022
As a Steigenberger Alsik guest, your health and safety are of paramount importance. Therefore your stay will be subject to all regulatory guidelines and recommendations for the prevention of Covid-19. You will find instructions and guidelines in many places throughout the hotel, in the restaurants and in the spa about how to maintain physical distance and to look out for one another.
General Covid-19 guidelines
Hand sanitizer is available throughout the hotel.
Please keep a safe distance to other guest and staff.
We recommend that you be tested if you have symptoms, and that you refrain from visiting the hotel until you have a negative test answer.
Due to current guidelines, there may be queues at the lifts and the breakfast buffet. We ask for your patience and understanding in these situations.
For futher information about Covid-19 guidelines in Denmark please visit:
COVID-19 INFORMATION ON CORONASMITTE.DK
Please feel free to contact us if you have any questions.
We are looking forward to welcoming you to Alsik Hotel & Spa.
COVID-19 TESTING
All persons (including foreigners) may obtain a free PCR test in Sønderborg.
Please follow the link for finding your testing facility: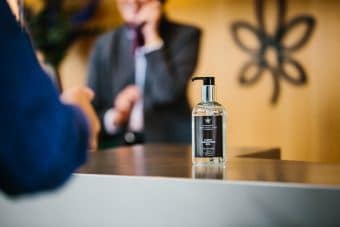 Information about our restaurants
Our restaurants are often fully booked during evenings, and we therefore encourage you to book your table in advance to avoid disappointment.
Important information about Alsik Spa
Children up 16 years can book special timeslots for children.