Join Sergenten
We are busy with concerts and conferences at Sønderborg's new event venue, Sergenten.
That's why we need you!
Come to the Recruitment Workshop on Wednesday 22 March at Alsik.
THE WORKSHOP IS FULLY BOOKED.
We are looking for foot soldiers who will do part-time service at the Sergenten – e.g. as a supplement to the studies.
That is why we are facilitating a recruitment workshop on Wednesday 22 March at 15.00-16.00.
Here you can get more information about working at our event venue.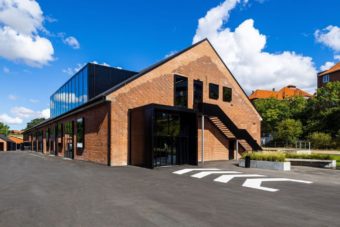 Are you a loyal, service-minded, outgoing, flexible, reliable person and a true team player?
So pull on the uniform and report for duty at the Sergenten.
You will be part of a strong service team, where the community is large and the tasks varied.
The work may include, among other things: Waiter, bartender, wardrobe and cleaning/washing up.
We offer an attractive salary (currently DKK 163.45 per hour) and good working conditions.
The number of hours will vary according to need, and working hours will typically be in the evenings and at weekends.
Applicants must be 18 years of age and must be able to show a criminal record.
What is Sergenten?
Sergenten is Sønderborg's new event and conference venue.
The large military garage at the former barracks has been rebuilt and is now ready to create a setting for concerts, fairs, exhibitions, gastronomic events, company parties and much more.
Sergenten is part of the nearby Steigenberger Alsik Hotel & Spa, which contains three restaurants, 190 rooms, 9 meeting rooms and a large spa and wellness department.
Sergenten offers a large event hall with space for up to 825 seated or 1500 standing guests. There is also an exclusive lounge on the 1st floor with its own bar.