Restaurant Alsik Menu
We have put together a menu which includes all the dishes you know. Always using fresh produce and ingredients from both the local area and all corners of the world.
Fish & shellfish
*PRAWN KOCHTAIL 145,-
Crisp salad with hand-peeled prawns, red dressing, small pickles, tomato breadcrumbs & herbs
*SALAD NIÇOISE 135,-
Small crispy seasonal salad from local produce with organic chicken eggs, Niçoise olives, mustard marinade & hot smoked salmon in virgin olive oil.
COD "BOUILLABAISSE" 185,-
Baked cod in bouillabaisse soup with roasted potatoes, ratatouille vegetables, saffron & juicy tomatoes
Meat
BURGER 165,-
Hamburger made from dry-aged beef served in a warm butter bun with bacon-onion compote, Unika Gammel Knas cheese, paprika-tomato relish & chips
BARBECUED PORK SHANK 175,-
Slow-braised tender pork with Jerusalem artichoke purée, browned butter, grilled cauliflower & herb blanquette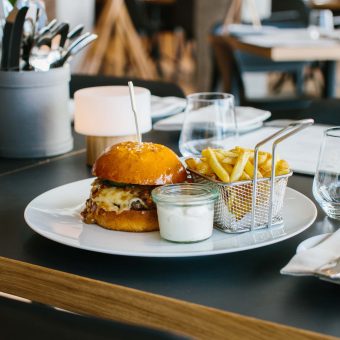 Cheese & desserts
*CHEESE 135,-
Five choice international cheeses with crisp bread, pickled nuts & salted unripe peaches
*PANNA COTTA 115,-
Panna cotta with mocha, salted oatmeal crumble, burned white chocolate, pickled plums & red berry sorbet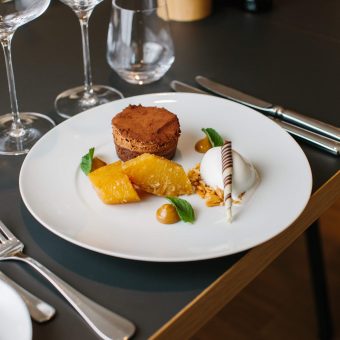 Vegetarian & pasta dishes
*BURRATA 125,-
Italian organic burrata "Mozzarella" with grilled crostini bread, small juicy tomatoes, ratatouille greens & seasonal salad in vinaigrette
*HUMMUS 115,-
Creamy chickpea purée with sumac, small onions, olives & crisp tuiles
*PASTA ROSSO 135,-
Fresh pasta in a grilled red pepper sauce, aged Unika Havgus cheese black pepper & green herbs
Alsik seasonal menu
3 courses DKK 450,-
Available only if ordered by the whole table
*COLD-SMOKED SALMON 145,-
Slices of cold-smoked Faroese salmon with fresh cheese, pickled cranberries, rye tuiles, small salad in lemon vinaigrette & dried capers
Wine suggestion: Glass DKK 95 / Bottle DKK 480
2017, Macon Blanc Villages, Domaine Faiveley, Bourgogne, France
VEAL ENTRECÔTE 265,-
200g veal fillet, fried with fat and crackling "medium", grilled beets, intense red wine pepper sauce & creamy potato
Wine suggestion – Glass DKK 80 / Bottle DKK 385
2017, Valpolicella Ripasso Superiore, Villa Ca' Vendri, Italy
*CHOCOLATE & BERRIES 120,-
White chocolate mousse with raspberries, almond crumble, lemon custard & berry sorbet
Wine suggestion – Glass DKK 90 / Bottle DKK 440
2017, Chateau du Mont, Saint Croix du Mont, Bordeaux, France
*Vegetarian option
Alsik Platter – A Taste of Alsik
295,- per person
Comes with freshly baked cold-risen sourdough bread, crispbread & organic salted butter
*Burrata 'Mozzarella'
with pesto and tomato relish
*Hummus
with pickled onions & green olives
Cold-smoked salmon
with fresh goat cheese & preserved lemon
*Crispy salad
with red dressing, prawn & herbs
*Two selected European cheeses
with green tomatoes
*Brownie
with seasonal fruit & lemon curd
*Vegetarian option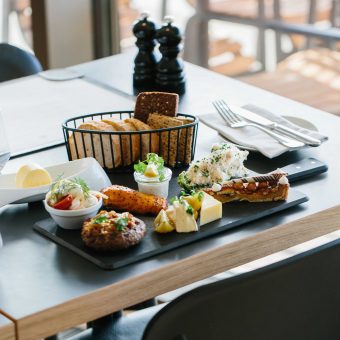 Pastime – A Little Something Light
Snacks 65,-
Chef's 3 savory snacks, olives, almonds & spiced sausages
Sweets 45,-
The pastry chef's 3 small sweet temptations, biscotti, puffed pumpkin seeds & chocolate
Cake 45,-
Cake of the day from the patisserie (Please ask your server)